Currently, Sylvie Yannello provides piano accompaniment for ballet classes at Rose Academy in Forest Hills and teaches from her studio in Long Island City. 2020 sees her in the studio recording her debut EP. Her latest publication is an original piano part for Mike Muller's song "Travel On". Since 2018 she has been the drummer of the pop-soul quartet Phanrosy. She also can be found many Monday nights at Big Ed Sullivan's World Famous Blues Jam at the Red Lion on Bleecker Street. Her favourite pianists include Elton John, Allen Toussaint, Steve Nieve, and Chuck Leavell. In 2014 she published piano/vocal arrangements of five songs by Elvis Costello.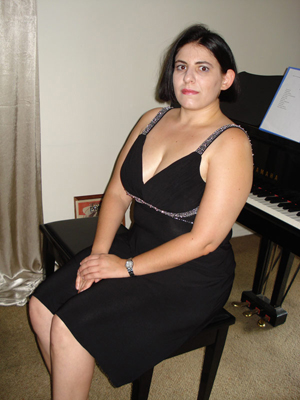 Sylvie started her musical education in Jamestown, New York, studying piano for ten years under Mrs. Helga Hulse. She took a BA in music from New York University in 1999. In the mid-2000s she studied audio technology in the graduate program at NYU's Steinhardt School of Education. She renewed her piano studies in 2004 under Dr. Mark Birnbaum, with whom she spent another ten years. In June 2012 she began studying drums with Matt Ritter. In April 2017, she began studying blues piano under David Bennett Cohen.
Sylvie has played professionally as a cocktail pianist, wedding pianist, and church accompanist, and as the solo piano accompanist of musical theatre productions as well as in ensembles accompanying musical theatre. For two years until 2016 she played drums in the Brooklyn-based rock band Her and the Grey. As a solo pianist, Sylvie has appeared in New York City at Water's Edge, Thady Con's, Anyway Cafe, Mimi's, and Caffe Cielo. Private solo performance programmes have featured pieces by Scott Joplin, Elton John, and George Gershwin, including Gershwin's "Three Preludes" and "Rhapsody in Blue". In 2011, she played piano in the five-show run of the musical Our Christmas in Washington Heights, and in the big band ensemble of Michael Patrick Dominick's production A Night at the Sands in Fairfield, Connecticut. More recently she performed a solo piano concert for St. Luke Episcopal Church's Wings of Song series and provided accompaniment for their Gingerbread Players' 2013 Gala Revue.